Resources for Creating Virtual Performances
Get inspired to create virtual performances by watching these students from Orange County School of the Arts who were challenged to create an online production led by their teachers. Scroll down the page for more extensive resources and information about creating online virtual (digital) productions.
Credit: Orange County School for the Arts Now.Here.This. May 14, 2020 production trailer. Go here to view on YouTube.
Learn more about the making of Now. Here. This. by following this link .
Top Ten Tips for Virtual Performance
Coach all participants to frame themselves in their camera and keep backgrounds uncluttered and free from distracting personal items; encourage students to use ear buds or other small headsets to improve sound quality.
Consider researching how to use simple light set ups to fully light the face and for special effects.
Use digital backgrounds and the green screen feature in video conferencing platforms to create the illusion of virtual actors being in the same place.
Experiment with props to create the illusion of shared space.
Learn to use a broadcast or switching software to create special effects, control virtual scenes and improve performance quality.
Experiment with movement to increase dramatic effect- what happens if performers move closer to their camera or further away?
Borrow techniques from the world of film to create more exciting pre-recorded performances. Adding "B Roll" and animations can easily be done with free software such as iMovie or WeVideo, and can add a layer of creativity and increase audience engagement.
Create a file naming and organization structure to keep track of student work and work in progress; this is especially important if you are working with pre-recorded video clips to edit together a performance.
Plan your season with plays that translate well into a virtual realm: plays which are monologue based, plays and musicals which have a strong element of solos, scenes between two characters, plays with flashbacks, memory scenes, etc. that may lend themselves to video effects. Don't overlook the growing list of plays written to be performed in "Zoom" type conditions.
Remember that virtual performances are not simply recording a Zoom meeting where students perform. Rethink virtual performances as a unique genre and challenge yourself and your students to think about "playing in the frame".
Some Definitions

There have been many confusing terms flying around the internet as we explore this brave new world, so let's begin by agreeing upon some definitions, which will be useful as you read on.
streaming: to share a live or recorded performance over the internet using streaming media services such as YouTube, Vimeo, Facebook, etc.
livestreaming: to share a live performance over the internet using streaming media services.
broadcasting: the transmission of programs by radio, television or internet streaming media services.
pre-recorded/digital: a performance that has been recorded prior to the actual sharing of the performance; the actors are not present when the performance is shared.
video editing: the general term for altering a recorded performance either to add remove or add elements, add animations or to weave together recorded performances captured at different times.
CAUTION: not the same as turning the show into a movie.
virtual performance/online performance/digital performance/"zoom" performance: terms often used interchangeably to mean a performance which is shared with an audience through the internet
broadcast software: an app or software which replaces hardware used for "switching" to allow video feed from more than one source to be manipulated for delivery to a viewing through a streaming platform
Adding Polish

Add polish to your streamed performance by utilizing a broadcasting software. Using a Zoom type technology and a broadcast software, the students perform together although they are in separate spaces, and the video from the video conferencing software is fed through a broadcasting software on the host's computer. The host is able to control whose video is seen by the audience, who appears to be interacting with whom, and even crop the video for special effects. The audience sees whatever is happening slightly delayed from the live moment, but is unaware of this, due to the function of the broadcast software.
Free broadcast software such as Streamlabs or OBS Studio, make it possible to add special effects and easily create scenes between selected performers during a live virtual performance, since sending the video through the software before sending it out on Facebook or YouTube allows the host much more control over what the audience sees. Read all about it on Livestreaming 101 by LA Virtual Lighting Designer Andrew Schmedake, it is a clear explanation of what to do and how to do it. You can catch Andrew's webinar here on EdTA's Learning Center for more tips and techniques.
Another free resource available is ZoomOSC, created by Liminal Entertainment Technologies, LLC. ZoomOSC increases the capabilities of Zoom for live performance through the use of a media server. Visit the ZoomOSC page on Liminal Entertainment Technologies' website to learn more.
In this blog post by a drama teacher who created a virtual production, she shares the many lessons she learned from using an Open Broadcasting Software.
Two Main Scenarios
When the need arises the first decision you will need to make is whether to record your performance and stream it or stream it live; or some variation which includes elements of both. Each scenario involves negotiating the appropriate licensing rights with your licensing agent. A brief summary of the factors to consider may be found below.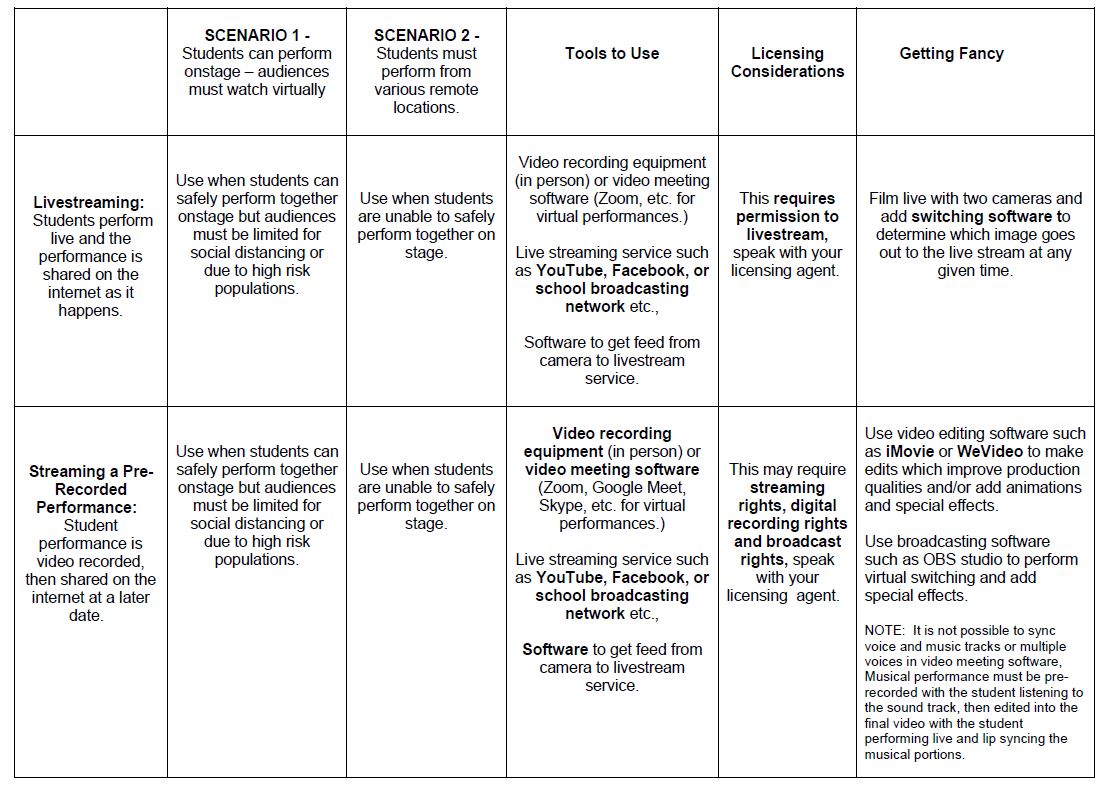 Creating Virtual Performances Part A: Pre Production

The first of three PowerPoint presentations which expand on the top ten tips for virtual productions.

Creating Virtual Performances Part B: Rehearsal & Tech

This is the second in a three part series expanding on the top ten tips for virtual performances.

Creating Virtual Performances Part C: Performance Time

The third in a series of PowerPoints expanding on the top ten tips for virtual performance.
| Access Date | Quiz Result | Score | Actions |
| --- | --- | --- | --- |
Full Site Search
Membership Benefits
Join EdTA for full access to our professional development and standards-based teaching resources, including:
300+ lesson plans
Click to Teach online lessons
K-12 curriculum
Webinars
And more!