Upcoming Professional Learning Webinars
February 16th, 2023 at 7:30pm EST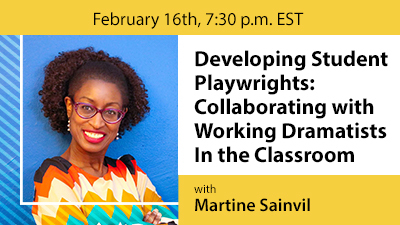 Title: Developing Student Playwrights - Collaborating with Working Dramatists In the Classroom
Date: February 16th, 2023 at 7:30pm EST
Speaker: Martine Sainvil (Playwright of Strange Happenings at the School Library published by Next Stage Press)
Pricing: Free for EdTA Members. Non Members: $49.00
In this webinar, Playwright Martine Sainvil will discuss her experience working with teachers and students to create original work. Topics will include: How to collaborate with working playwrights. Creating new work that is relevant to students. Developing a framework for beginner playwrights.
Available on November 28, 2022
Title: Mathematics of Acting = Voice + Face
Date: Available beginning November 28, 2022
Speaker: Dréa Lewis (Drama teacher and author of "The Mathematics of Acting")
Pricing: Free for EdTA Members. Non Members: $49.00
If you've ever wondered why people sound the way they do and how actors can make certain choices to create memorable characters, then this course is for you! Students will gain an understanding of a few vocal tools and how to combine certain vocal textures to create at least 8 character voices. Attendees will also gain awareness of how certain muscles can be manipulated to create compelling faces.
Available on December 12, 2022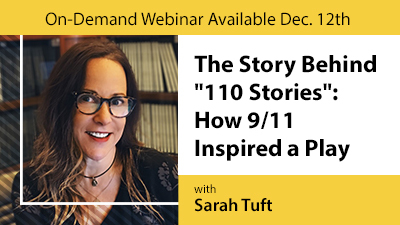 Title: The Story Behind "110 Stories": How 9/11 Inspired a Play
Date: Available beginning December 12, 2022
Speaker: Sarah Tuft (Playwright, 110 STORIES)
Pricing: Free for EdTA Members. Non Members: $49.00
Step back in time with instructor Sarah Tuft, as she recounts what it was like to wake up, twenty-one years ago, to the Twin Towers already collapsed, and how her instinct to "run towards the flames," led her to write the docu-play, "110 Stories." In this workshop, Sarah will share, not just her experience, but also tips on creating documentary theatre, including how to build trust when engaging with a community in crisis, how to identify and conduct the right interview, and how to structure those interviews into a moving play that tells the story you want to tell.
In Case You Missed It...
Check out these previews from some of our recent professional learning webinars!

My Grandfather's Ways: An Introduction to Indigenous Teachings
Speaker: Allison Green
| Access Date | Quiz Result | Score | Actions |
| --- | --- | --- | --- |
Full Site Search
Membership Benefits
Join EdTA for full access to our professional development and standards-based teaching resources, including:
300+ lesson plans
Click to Teach online lessons
K-12 curriculum
Webinars
And more!