Upcoming Professional Learning Webinars
Live Webinar on August 17th, 2022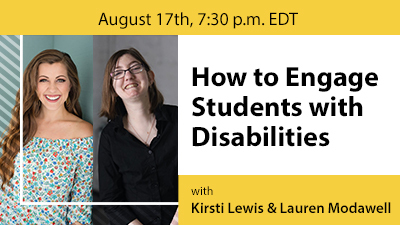 Title: How to Engage Students with Disabilities
Date: August 17th, 2022 at 7:30 pm EDT
Speakers: Kirsti Lewis (Founder & Executive Director of People Like Us) and Lauren Modawell (Performer & course instructor for People Like Us)
Pricing: Free for EdTA Members. Non Members: $49.00
Everyone deserves access to quality education. But if you're like most educators, you may feel ill-equipped to offer meaningful curriculum to your students with disabilities. By the end of this webinar, you'll gain three researched-based teaching strategies, three activities and four resources you can use to create more inclusive, more effective learning environments for students with developmental differences.
Live Webinar on August 18th, 2022

Title: Demystifying Shakespeare Through Hip Hop
Date: August 18th, 2022 at 7:30 pm EDT
Speaker: Devon Glover (The Sonnet Man)
Pricing: Free for EdTA Members. Non Members: $49.00
Workshop with nationally recognized expert Devon Glover, A.K.A. "The Sonnet Man" to explore techniques for recognizing the rhythms of hip hop in Shakespeare to bring it to life for contemporary students in new ways. Learn how Devon uses contextual clues to demystify the bard and help a new generation of students understand and love the works.
In Case You Missed It...
Check out these previews from some of our most recent professional learning webinars!

My Grandfather's Ways: An Introduction to Indigenous Teachings
Speaker: Allison Green
| Access Date | Quiz Result | Score | Actions |
| --- | --- | --- | --- |
Full Site Search
Membership Benefits
Join EdTA for full access to our professional development and standards-based teaching resources, including:
300+ lesson plans
Click to Teach online lessons
K-12 curriculum
Webinars
And more!