High School Performance Model Cornerstone Assessments
A Model Cornerstone Assessment is a model of assessment with guidance for instruction which may be customized for use in your classroom. Model Cornerstone Assessments (MCAs) are aligned to the National Theatre Standards and illustrated with examples of adjudicated student work. MCAs have been created for high school in both performing and technical theatre tasks at three levels: proficient, accomplished and advanced.
Character-Based Improvisation: High School Proficient Model Cornerstone Assessment
MCA Title: Character-Based Improvisation
Grade Level: High School Proficient I
Author: National Theatre Standards Writing Team
Artistic Processes: Creating, Performing, Responding, Connecting
Task Description: Students will choose a character from a suggested genre (fairy tale, nursery rhyme, or other literary source) with which they are familiar and complete the Character Analysis Worksheet. All students will then be given the same set of scene parameters that includes a place, situation and clearly-defined obstacle to overcome. Working with an assigned partner, students will improvise and perform a three-minute scene in character.
"Character-Based Improvisation" demonstrates ways to measure student learning in performance, assigning students the task of improvising a 3-minute scene based on fairy tale characters as a tool for instruction and assessment. This Model Cornerstone Assessment (MCA) is based on a unit which was piloted in a variety of classrooms across the nation. Although in an MCA the emphasis is on the evaluation tools, an MCA does offer enough information for any teacher to create a similar unit of their own. Click on "View the full MCA" below to see strategies for embedding in instruction as a guide for re-creating this unit and assessment customized for your classroom.
MCAs model effective assessment practice and demonstrate that teaching theatre is specific, rigorous, and measurable by sharing a glimpse into one teacher's classroom. The MCAs on this website come packaged with a suggested strategy for assessing student learning, types of evidence to collect, model rubrics, and samples of student work demonstrating their process and learning. The samples of student work illustrate the unit in action by providing a snapshot of a moment in time showing student response to instruction.
Illustrating the Process: Sample of Student Work
Illustrating the Process: Measuring Student Learning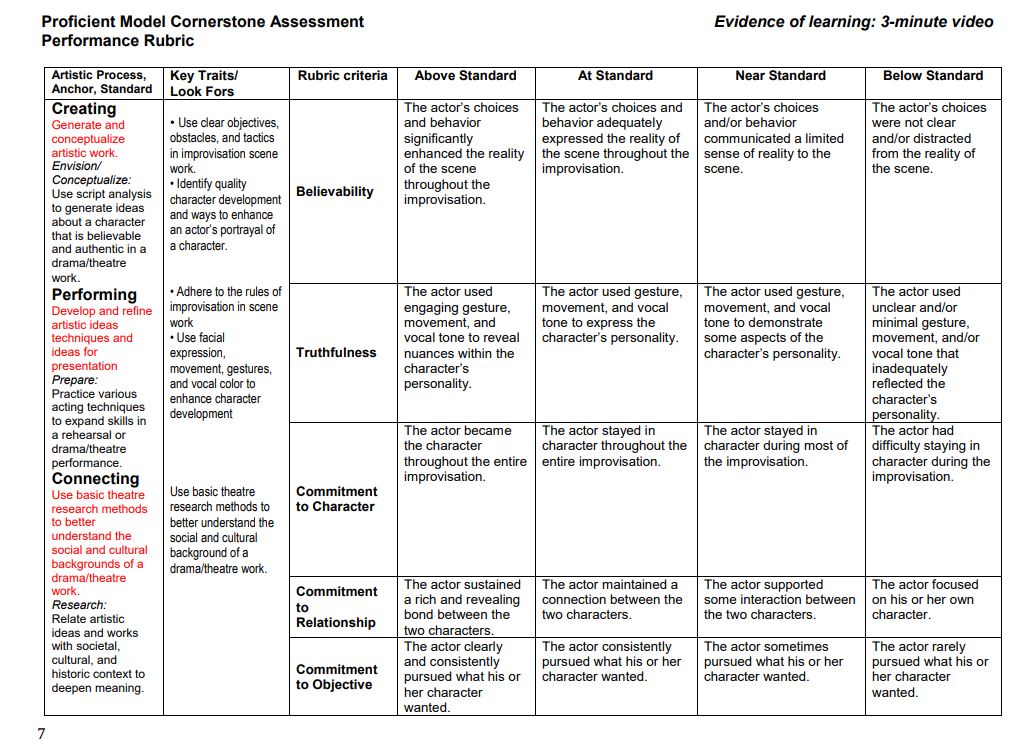 Additional Tools and Resources
View and download the MCA and any additional materials.
HS-I Improvised Performance Model Cornerstone Assessment Unit

This model cornerstone assessment document describes the unit and offers guidance for teaching and improvised performance pieces and assessing student learning. Use the rubric along with any student work samples and additional materials to understand how to use this unit.

HS-I Proficient Acting Student Reflection

This student reflection accompanies the student performance as evidence of student learning.
Additional Model Cornerstone Assessments
| Access Date | Quiz Result | Score | Actions |
| --- | --- | --- | --- |
Full Site Search
Membership Benefits
Join EdTA for full access to our professional development and standards-based teaching resources, including:
300+ lesson plans
Click to Teach online lessons
K-12 curriculum
Webinars
And more!
More MCA Units
HS-I Proficient MCA: Costume Design

Students will create a costume design for a character in a drama or theatre work by analyzing the work, identifying and researching a design concept, constructing a mood board, sketching renderings and estimating a budget. Authors: Theatre Educator Jessica Shaw with Shirlee Idzakovich, NYC Costumer