Click To Teach: D.I.Y. Hip Hop Musical Theatre
Step 1: Inspiration
Thomas Fuller, the Hip Hop Party is an original student hip hop musical concept based on the true story of a man who was kidnapped in West Africa and sold into slavery in Virginia in 1724. He taught himself how to solve complex mathematical problems in his head and became invaluable to the people who called themselves his masters.
This classroom clip shows students working on one of the songs - "The Escape" . In this number we see Fuller working in the fields with 3 other enslaved people. They are plotting an escape to freedom. This is an example of a decision number in a musical.
Explore this student work in process and then use the tools provided to create your own hip hop musical number.
Be sure to check out dramatics.org for more ideas.
NOTE: Thanks and a hat tip to Brian Jennings and Arbender Robinson; excerpts from their unit on Hip Hop Musical Theatre were used to create this D.I.Y. page. If your troupe or theatre class would like to do a unit or challenge based on hip hop musical theatre, the entire lesson plan is available right here on TE-Pro.
Step 2: The Beat
To begin writing, find your beat. Sometimes the lyrics come first, sometimes the music, but always carried by the beat.

To find your beat set up an account on Soundtrap:

Go to www.soundtrap.com
Click: Join Now
Select: Personal Use.
Sign-Up by email – follow the prompts. "Enter Studio"

Watch the Intro video.

Start messing around by adding loops and playing.

Create at least 3 distinct beats using loops/synths/whatever that can evoke the hip hop world of your play and might serve as the basis for composing one of your songs.
Each beat should evoke a different event and/or a different emotional state.
Original student music for The Escape
Step 3: Music
Once you have an outline of the story you want to tell - next it's time to create the music and write the lyrics. Your song should tell a specific piece of your story and/or explore one of the themes – AND it should comply with the basic rules of Rap rhythm and rhyme. A good musical theater song will evoke a specific mood or emotional state AND it will convey a sense of change in the character's circumstance, outlook or emotions.
Types of Musical Theatre Numbers:
Opening: This song sets up the dramatic action
Transition: a moment of change or conversion
Character Introduction: Introducing Characters in a scene Realization: reaching a new moment of understanding Decision: character makes up their mind after much debate
11 O'clock Number: Usually the big number near the climax of the story
Passage Of Time: Can show time passing or location change Plot: Song can be used to highlight key points in the storyline Finale: Resolution and final number in the show
Easy as 1, 2, 3 !

1. Pick the part of the story you want this song to tell.
2. Choose the type of song that will best fit this portion of the story.
3. Select or create music loops. Find the loops that best evoke the portion of the story you are trying to tell. Remember that any section of any of the loops can be extended or shortened to fit your needs. Put two or three individual loops together to create greater variety within your song.

Step 4: Lyrics
Check out this article on How to Write Rap Rhymes (source: wikiHow). To learn more about how to write lyrics, watch the video below.
YouTube video credit: How to Rap
Diving Deeper
The popularity of Hip Hop and other musical innovations has inspired a new set of careers for theatre artists.
Click on the image below to read about the possibilities in the article DJ Broadway by Kate Morgan on Dramatics.org.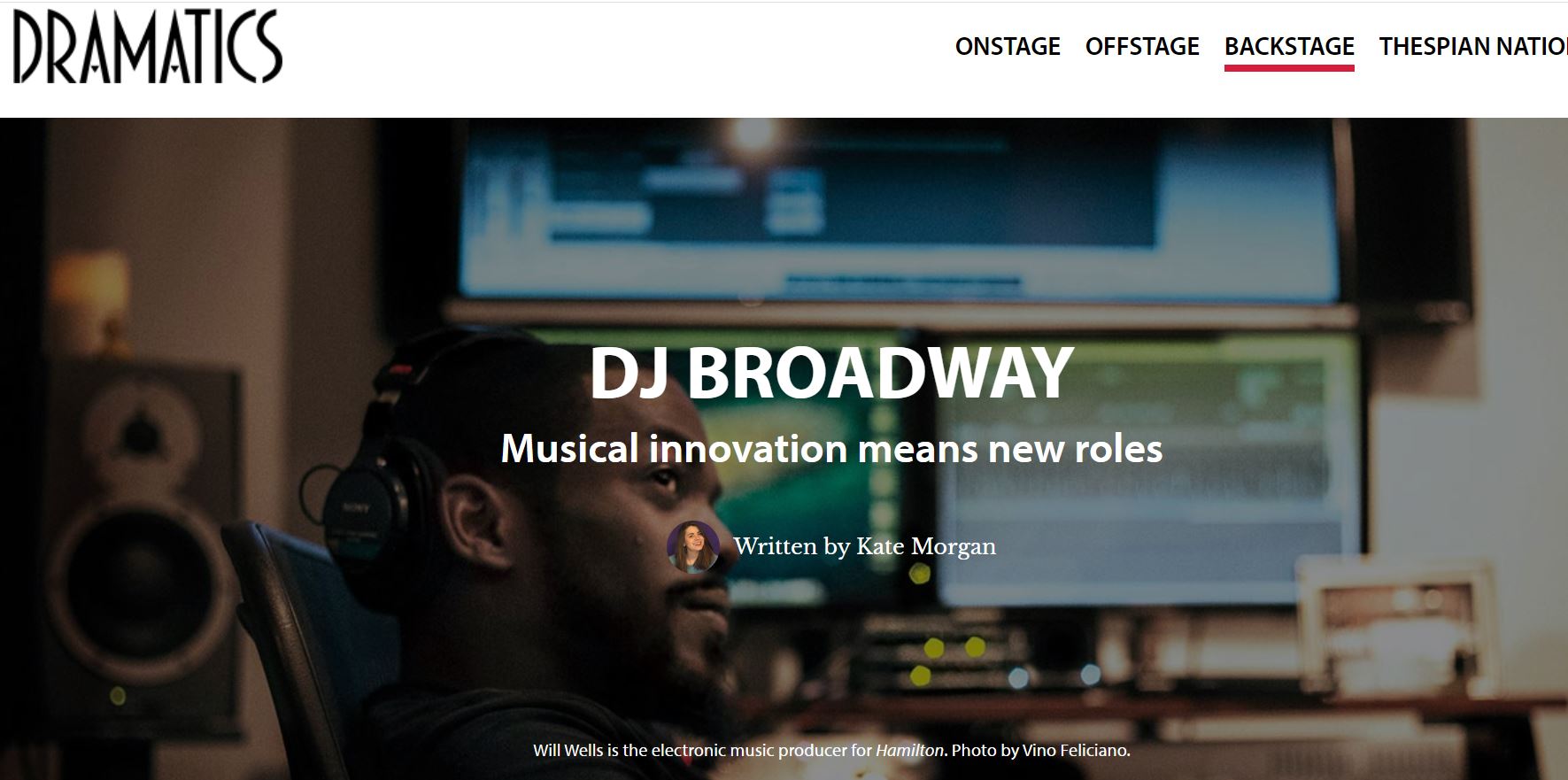 How does the role of the music technician in this article enhance and support the storytelling?
Measuring Learning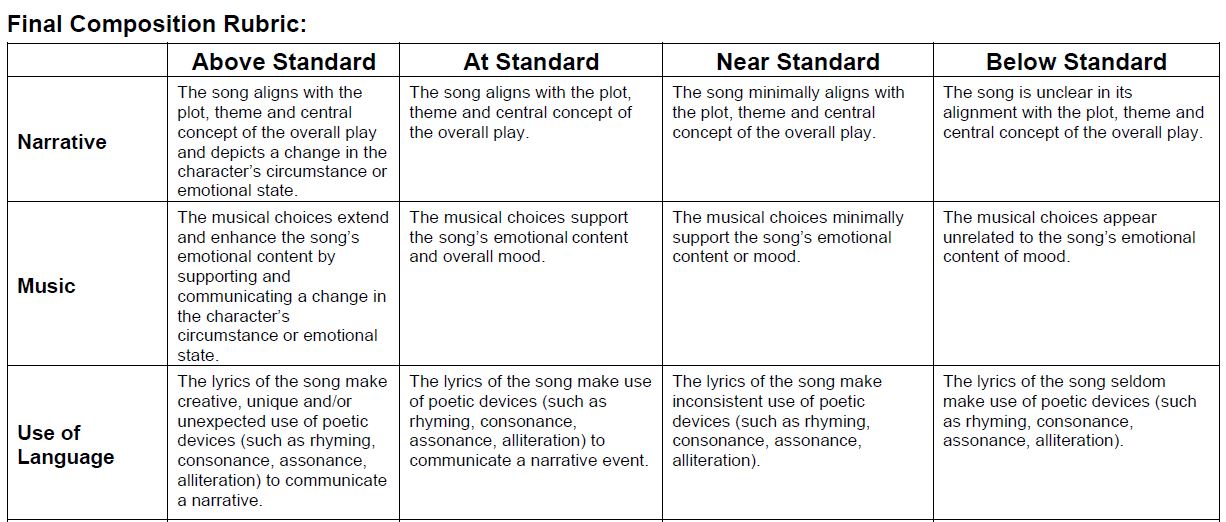 Classroom Connections
Hip Hop musical theatre makes a great student lesson to teach in 3-4 class periods. (Or expand it into a semester long unit with a final performance) To view a semester long unit go here. This lesson is suitable for middle years or secondary students of all ages and experience.

Standards:
Middle Years
TH:Cr3.1.8.c Implement and refine a planned technical design using simple technology during the rehearsal process for a devised or scripted drama/theatre work.

HS Proficient
TH:Cr3.1.I.c. Refine technical design choices to support the story and emotional impact of a devised or scripted drama/theatre work.

HS Accomplished
TH:Cr3.1.II.c. Re-imagine and revise technical design choices during the course of a rehearsal process to enhance the story and emotional impact of a devised or scripted drama/theatre work.

HS Advanced
TH:Cr3.1.III.c. Apply a high level of technical proficiencies to the rehearsal process to support the story and emotional impact of a devised or scripted drama/theatre work.
| Access Date | Quiz Result | Score | Actions |
| --- | --- | --- | --- |
Full Site Search
Membership Benefits
Join EdTA for full access to our professional development and standards-based teaching resources, including:
300+ lesson plans
Click to Teach online lessons
K-12 curriculum
Webinars
And more!